Google Chrome has been a leading web browser for over a decade. With its high speed, multiple extensions, and smooth interface, it's no wonder that Chrome has reigned over the web browsers since 2009. However, Microsoft Edge has been steadily revamping itself and adding new technology that makes it a better browser for business aspects, especially for those who use Office 365.
Chrome and Edge
Chrome and Edge both have many similarities. For one, both web browsers are the fastest on the market. Since the browsers are chromium-based, this means they virtually have the same user interface. Both browsers have extensions to better users' experience, and since Edge can implement Chrome extensions as well, the experience of using Edge and Chrome are almost identical.
However, despite all their similarities, Edge has a distinct edge on Chrome when it comes to productivity, privacy, and performance, which makes it the ideal web browser for all business and work-related elements.
Reason #1: Increased Productivity
Edge has attributes that increases productivity for its users. For one, users can customize their homepage to display Office 365 apps and access the apps they use frequently immediately upon opening a new tab or window.
Edge's search engine, Bing, also has a nifty facet that allows users to use Bing and find work documents or information. Users can simply search up the title of a file, and Edge will bring up relevant tabs from users' Office 365 account. Both of these functions prevents users from wasting time combing through their Office 365 account to find the app or document they need.

Reason #2: More Privacy Protection
Unlike Chrome, Edge has a built-in privacy protection system. Since Edge displays and explains its three privacy settings, users can pick which one best suit their browsing needs. These privacy settings use Application Guard and SmartScreen in order to block trackers while Chrome only blocks third-party cookies. Users can also manage their business' data with Azure AD Conditional Access and Window Information Protection, which allows users to access their organization's cloud resources in a secure way.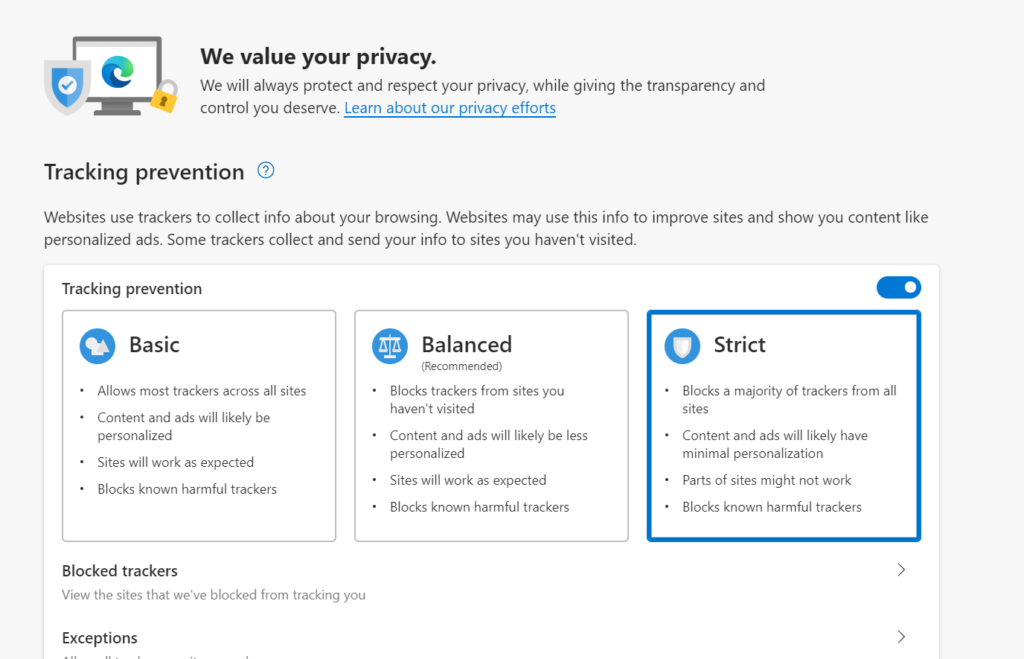 Reason #3 Fewer Applications Needed
Gone are the days users have to open other applications in order to share or open documents. With Edge's Nearby-Sharing feature and PDF markup support, users can share and transfer files between computers and open PDF files without needing a third party. With all the extra clutter gone, users can have a smoother experience while using Edge.
Reason #4 Go Beyond Bookmarks
Edge introduces the idea of Collections, which is almost like Pinterest for Business. Users can create a Collection and organize all the websites they've visited as well as keep track of notes and ideas they had, which allows for users to simply peruse their Collection to find relevant websites and continue working.
Reason #5: Better Performance
For all its strengths, Chrome is decidedly not up to par in terms of memory usage and CPU resources. Edge, on the other hand, typically uses less CPU and RAM than Chrome.
Switching Browsers Has Never been So Easy
Switching from Chrome to Edge is quick and effortless. Users can sync their old Chrome browser to Edge, which transfers bookmarks, passwords, and personal information with just one button. Edge users can also sync their information across multiple devices with Office 365, due to its cross-device feature.
Since Edge has all the strengths of Chrome in addition to better privacy protection, lower memory usage, and increased productivity, making the switch from Chrome to Edge is an easy decision. While Chrome is great for personal use, Edge has more features that can enhance users' professional lives. Switch over to Edge now and improve your work experience.